This year, the Festival of Words in the Swedish city Östhammar happens the eleventh time. The main event is on Saturday Oct 25 2014, but a lot of interesting events will pass during the nearest week, or so. The festival program (in Swedish) has more information.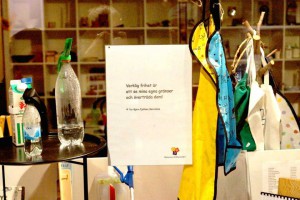 And, I'll take part this year, too, although I remain in Barcelona during this time!
This is, one of the events is Poetry street. From Oct 15th until Nov 10th short poems will be on display in many shops in central Östhammar. And two of the pieces were written by me! On the photo (by Stig Unge) you can see what it looks like.
If you can't visit Östhammar, or if you want to be sure that you didn't miss any of the poems on display, then, this year, you can visit the virtual Poetry Street (Which I put together myself.)
Click on the picture below to visit the Östhammars virtual Poetry Street of 2014.